Are you looking to redesign your small business website but only have a basic understanding of web design? You're not alone.
There is no end to what you could learn about web design, but as a small business owner, you only have so much time in the day.
In this article, I want to focus on some of the most commonly overlooked elements of small business website design. These are the things that have a big influence on the success of a site but that are commonly lost in the shuffle.
You should look out for these web design fails whether you create your site yourself or hire a full service digital agency for custom web design services and web development.
See also: 30 Website Redesign Goals to Focus On in 2023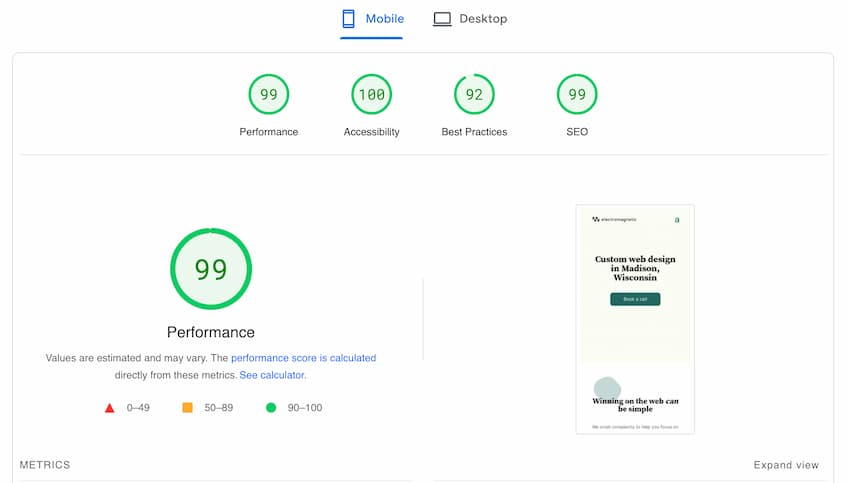 1) Page Loading Speed
In today's fast-paced world, users anticipate websites to load quickly. However, when designing a website, page loading speed is often disregarded. Slow loading times can frustrate users and increase bounce rates (the percentage of visitors that leave the site after only viewing one page).
To ensure a smooth user experience, optimizing your website's loading speed is essential. Leveraging browser caching, minimizing code, and compressing images are just some of the effective techniques for enhancing page loading speed. The web design itself can have a huge impact on page speed: Small businesses that overload their sites with large images and videos, plugins, and unnecessary scripts can see a real drop in performance.
By prioritizing speed—one of the most frequently ignored element of web design—you can enhance user satisfaction and retain visitors to your website.
2) Clear Call to Action
A clear and prominent call to action (CTA) is a central tenet of good web design and is vital for leading visitors towards the desired actions on the landing pages of your website. Simple CTAs include "Buy Now" or "Download Now"—phrases that encourage action from your user. Unfortunately, many small business websites fail to provide clearly defined CTAs. Without a strong CTA, site visitors may feel unsure of what steps to take next, which can lead to lost conversion opportunities.
To help your CTA stand out, make sure to use contrasting colors, interesting language, and attractive graphic design elements. Ensure that you strategically place your CTA where it is most relevant. Whether prompting visitors to make a purchase, fill out a form, or subscribe to a newsletter, a distinct CTA helps you achieve your business goals.
3) Mobile-Friendly Web Design
While responsive design has attracted significant attention, smartphone optimization is often an afterthought. Small businesses need to ensure that their website is not only responsive but also designed specifically for mobile devices, considering the continuing growth of mobile usage.
Top web design companies pay special attention to the usability of the interface on smaller displays, text sizes, button sizes, and mobile navigation.
As mobile friendliness is a ranking criterion for Google, a seamless mobile experience not only improves consumer satisfaction but also favorably affects your search engine rankings.
4) User-Focused Content
Content is the backbone of your website, but creating content that is truly valuable and relevant to your target audience is often neglected. Take the time to understand your audience's pain points, questions, and interests. Make sure your content is specifically tailored to meet their demands by offering compelling and relevant information.
Your web design should be driven by the content, and that content should not be static. You should incorporate areas and pages, such as a blog and call-to-action areas, that you can regularly update.
By considering user-focused content when creating websites, you create a dynamic platform to establish your expertise, build trust, and keep visitors engaged. Furthermore, well-crafted content improves search engine optimization, attracting organic traffic and potential customers to your small business's website.
5) Accessibility
Web accessibility is often overlooked, but it is a crucial aspect of small business website design. By implementing accessibility features, you can ensure that people with disabilities can access and navigate your website.
Use descriptive headlines, provide alternate text (alt tags) for images, and ensure compatibility with screen readers. Making your small business's website design accessible increases both the size of your prospective audience, and it's simply the right thing to do. Accessibility is not only a legal requirement, but it also gives all users equal opportunities to interact with your business.
6) Admin-Friendly Web Development
Web design is important, but equally important is how your website is built. The underlying technology of your site not only affects your visitors, but it also affects you when you have to go in and make a change or update. When it comes to web development, you have many options. Consumer-oriented website builders, such as Squarespace, make it fairly easy to update text and images on your site but have limitations when it comes to consistent design and performance.
We build most of our websites with WordPress, but not all WordPress sites are created equal in terms of admin-friendliness. If you choose to go with a lower-end web development company, you will likely get a static theme, which can be difficult and expensive to change. I usually recommend building WordPress sites using a visual builder. This makes it much simpler for the owner of the site to make updates, add new sections, and even adjust the look and feel of the site, all without touching any code. Choosing a performant website builder (I like the one called Oxygen Builder) coupled with quality web hosting ensures good loading speeds while making the back end user friendly.
7) Security and Privacy
It's remarkable how frequently small businesses overlook displaying trust indicators on their website, particularly in an era of growing concern surrounding online security and privacy. To improve trust with consumers, be sure to incorporate SSL certificates to encrypt data transmission, which ensures the protection of user data.
You can also display privacy policies that outline how user data is collected, used, and protected. These elements provide extra reassurance to visitors that their private information is secure. By prioritizing security and privacy, you can build trust and confidence in your small business through digital marketing, encouraging users to engage with your website and share their information with you with confidence.
8) Internal Linking
An often-overlooked component, internal linking can significantly improve the user experience of your small business's website. By incorporating relevant internal links within your content, you can direct users to related topics and encourage exploration and increased engagement.
Internal links enhance website navigation and help Google crawl and index your website more effectively. Internal linking helps encourage readers to visit other useful pages. This can help increase the time spent on your website, which boosts the overall visibility of your content.
9) Analytics and Tracking
Even though website monitoring and analytics may not be readily apparent to users, they are extremely important for assessing and optimizing the operation of a small business's website. The utilization of tools such as Google Analytics offers insightful data on visitor behavior, sources of traffic, and conversion rates.
By analyzing data, you can make informed decisions about website design, content optimization, and marketing strategies. Understanding how consumers use your website enables you to spot areas for development, concentrate your marketing efforts, and ultimately enhance results for your small business.
10) Regular Updates
Although it is often overlooked, updating your small business's website regularly is crucial for keeping it reputable and current. Broken links, outdated material, and outdated information can harm your company's reputation and turn off potential clients.
By adding new content, updating product and service information, and eliminating outdated or irrelevant content, you can keep your website fresh. Demonstrating that your small business is active and up to date helps instill confidence in visitors and encourages them to return. Regular updates also positively impact search engine rankings, as search engines favor websites with fresh and relevant content.
Should you hire a digital agency for your small business website design?
That depends on your budget.
Hiring a reputable digital marketing agency for your small business website design will almost certainly help you steer clear of these pitfalls and meet your business objectives.
The major drawback is cost. It's no surprise that hiring a full service creative agency will cost more than doing the web design yourself. If your budget is constrained, and you are willing to put in the time learn, you can come up with a decent web design yourself. Just be willing to learn and reach out for help when you get stuck, and be sure to take into account the 10 commonly overlooked elements of good web design that I outlined in this blog post.
We're Here to Help
I hope that this blog will help you to avoid common pitfalls and missed opportunities when creating or redesigning your small business's website. Here at Electromagnetic Web, we are happy to help with any questions related to your website, digital strategy, or online marketing.
Feel free to reach out to schedule a free, no-obligation consultation and evaluation of your current website.